Thank you for visiting our website!
Do you or a member of your family have an unused, uncomfortable or unwearable prosthetic or orthotic? Visit our office for free evaluation and help.
Steinmann Prosthetics & Orthotics
3885 Foothills Rd. #1, Las Cruces, NM 88011
phone: 575-532-5900 | fax: 575-532-6008
email: Steinmannoandp@comcast.net
website: http://www.SteinmannProsthetics.com 
Open 9:00 – 5:00 Monday – Friday; closed for lunch between 12:00 – 1:00 PM
Special appointments on request. Alamogordo and TorC clinics by appointment. Hablamos Espanol.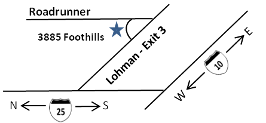 Foothills is 1 block north of the intersection at Lohman and Roadrunner. Our office is near Caliches and Subway. Click here for map.
DIAL-a-RIDE (575-541-2777) Seniors and persons with certain disabilities may qualify for public transportation service. 
Send us a confidential message using the email form below or call us. Your information will remain secure and not be used for any purposes other than communication. Thank you.
Mobile WordPress Website Development by Art Schobey Interactive – Raleigh, NC