Our clinic provides head shape evaluations for children between age 3-18 months, with referrals from pediatric healthcare providers throughout southern NM and west TX. Below is introductory information on newborn positioning, head shape asymmetry or plagiocephaly (play-ghee-o-SEH-faly), and ideas for effective parent education. The information is based on American Academy of Pediatrics (AAP) recommendations for infant safe sleep practices, and the following articles:
Steinmann LC. Newborn Positioning, Plagiocephaly Screening and Parent Education. American Nurses Association. American Nurse Today. Feb 2016;11(2).
Steinmann LC. Early Newborn Positioning: Preventative Healthcare Information for Pediatric Providers. New Mexico Nurses Association. The New Mexico Nurse. Jan 2015;60(1):12-13.
Reference tool to quickly screen for head shape asymmetry: Asymmetry Quick Screen Infographic
Free inservice for Pediatric Healthcare Providers. Newborn Positioning, Plagiocephaly Screening and Parent Education. 1 Hour CEU for NM PT, PTA, OT, OTA, and Social Workers. Call 575-532-5900 to set up a presentation for your group.
What is Newborn Positioning? AAP newborn positioning guidelines:
Place baby to sleep supine, on the back (con la boca arriba) starting at birth or within a few hours.

Rotate baby's head side-to-side while supine to keep the skull bones from flattening.

Rotate baby's position in the crib to encourage baby to move his head in both directions.

Provide exercise and tummy time, reduce time spent restricted in sitting devices.

Continue positioning up to age 1, even after baby self-positions.
What is Safe Sleep? Some safe sleep information is usually provided in the prenatal, hospital or clinic setting. Safe sleep basically involves:
Safe positioning as described above;

Safe environment (smoke-free, crib clear from clutter, firm mattress, avoid over-heating, share room not bed);

Safe maternal/infant health practices following recommendations for prenatal diet, breastfeeding, immunizations, pacifier use and tummy time.
Why is the Supine Position Important? The incidence of SIDS (Sudden Infant Death Syndrome) has decreased using the supine position. However, the incidence of plagiocephaly has increased (due to flattening on the back of the head). Screening for head shape asymmetry is recommended starting at birth, and at each healthcare visit.
What is Plagiocephaly? Plagiocephaly is an asymmetrical skull, and may include asymmetrical facial features and/or neck. Because newborn skull bones are malleable, plagiocephaly is common. Positioning to prevent or improve skull asymmetry is most effective starting at birth and during the first 3 months while the head grows rapidly and bones are moldable.
Why is Early Intervention Important? Any head shape asymmetry should be investigated early to rule out serious causative factors, in particular craniosynostosis and torticollis (neck muscle disorder).
Craniosynostosis is the premature closing of one or more cranial sutures. Surgery is usually required to release the suture(s) and allow for proper brain growth. Healthcare providers must question whether plagiocephaly may be due to craniosynostosis, and rule it out.
Neck muscle disorders such as torticollis decrease head and neck mobility, interfere with motor milestones, and increase the chance for plagiocephaly. Torticollis and plagiocephaly are commonly found together.
What are Risk Factors for Plagiocephaly? The infant skull includes many moving parts such as cranial bones, sutures, fontanels, connective tissue, muscles, tendons, ligaments, joints, and more. Skull growth is largely determined by brain growth. Cranial growth slows after age 32 weeks (about age 7-8 months), and after age 24 months cranial bones and sutures are generally interlocked.
Risk factors may be intrinsic, extrinsic, or both:
Intrinsic = not modifiable, genetic, congenital. Examples: gender (higher incidence in males), a gene/chromosome anomaly, prenatal exposure to alcohol or certain medications, neuromuscular delay or low muscle tone.
Extrinsic = modifiable, environmental, acquired. Examples: improper positioning, prolonged immobility, or overuse of sitting devices that restrict movement.

Obstetric factors. Examples: first born, multiple birth, uterine position, assisted delivery, restricted uterine environment.
Plagiocephaly can be multifactorial. For example, the supine position is an extrinsic factor that can increase extracranial occipital pressure; however, susceptibility to subsequent bone deformity may be intrinsically related. One cannot know all the possible factors involved.
How is Plagiocephaly Treated? AAP recommends to start supine positioning at birth or within a few hours. While supine, rotate the head side-to-side to help avoid or improve head shape asymmetry. Also, alternate the position in the crib to encourage head movement in both directions. Parents may position the infant correctly, however head asymmetry remains and may be related to unknown factors (intrinsic, extrinsic).
What is Conservative Treatment? Conservative Treatment guidelines:
Preventive counseling (anticipatory guidance)

Mechanical adjustments (positioning, tummy time) and exercises (neck stretching exercises, physical therapy)

Referral to a craniofacial specialist for asymmetry that does not improve with a 2-3 month trial of positioning, or for any concerns
Screening for Asymmetry and Neck Muscle Disorder
Symmetry – The illustrations below show landmarks to determine alignment, level and proportion.


Asymmetry – The illustrations below show some examples of skull and neck misalignment.

Neck Muscle Disorder and Torticollis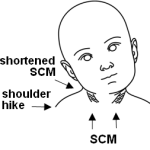 The sternocleidomastoid muscles (SCM) and the trapezius muscles attach to the base of the skull; injury to one of these muscles may cause it to shorten and thus interfere with head and neck mobility, such as with Congenital Muscular Torticollis. Look for head tilt with neck twist, shoulder hike on the affected side, and/or face rotation to the opposite side.
Teaching Strategies for Parents/Caregivers. Many parents/caregivers are not aware of the benefits of positioning, or the implications of plagiocephaly. They need specific instruction on how and why to position their baby.
Ask questions to determine the parent's level of understanding, provide anticipatory guidance, and address their concerns. Parents should report any asymmetry to their primary healthcare provider. Parents may report a "flat spot" but are given poor advice ("don't worry," "wait and see," "they will grow out of it," "the hair will cover it"). Parents may feel the plagiocephaly is their fault, and feel guilty, blamed, embarrassed. They may worry that touching the "soft spot" or rotating the head will hurt the baby.
Instruct parents/caregivers about positioning along with safe sleep education during prenatal, hospital, clinic and home visits. Prepare them to use this information to teach positioning to their family members.
Encourage Early Movement in Newborns
Encourage early movement in newborns. Provide clothes that protect but allow baby freedom to move head, shoulders and arms.

The skull bones are malleable, avoid prolonged immobility, be aware of head position, and rotate baby's head side-to-side at regular intervals.

Reduce time restricted in seating devices, and the use of swaddles that restrict movement (see Swaddling Risks and Recommendations).

To encourage head movement, counterposition baby on alternate ends of the crib.

When sleeping, rotate baby's head side-to-side.

When feeding and holding, alternate right and left sides.

For playtime and tummy time, a firm surface (play mat, rug) is best for baby to practice movement. Alternate supine and prone positions. Alternate placement of toys at baby's side to encourage turning and reaching movement. If baby has a preference for one side, attract attention to the other side.

Hold baby (cuddle time) as much as possible to facilitate muscle and brain growth (baby sling, front pack).

Have fun! Use a positioning program that encourages early movement such as Tummy Time Tools (Children's Healthcare of Atlanta, Orthomerica). In addition to these ideas, search for more videos and information from experts on newborn movement and tummy time.
Swaddling Risks and Recommendations. Advantages: may help decrease physiologic distress (crying, pain, feeling cold). Disadvantages: inhibits normal newborn movement; increases risks for overheating, hyperthermia, SIDS, suffocation, respiratory infections, delayed weight gain, plagiocephaly, and hip dislocation or dysplasia. Swaddling recommendations: monitor closely, supine position only; follow safe sleep guidelines; do not wrap tightly across chest, hips or knees; do not swaddle after age 2 months.
Summary
Parents and pediatric healthcare providers can be involved together to improve children's long-term health outcomes. Follow advice that is consistent with recommendations related to positioning and safe sleep. Plagiocephaly is primarily determined by simple visual assessment. Screen for plagiocephaly and neck muscle disorder, and investigate any head, face or neck asymmetry. Intervene early. Differentiate between craniosynostosis and plagiocephaly. Refer to a craniofacial specialist for plagiocephaly unresponsive to conservative treatment. Teach caregivers proper positioning, and encourage a culture of safe sleep.
References
AAP Bright Futures: Guidelines for Health Supervision of Infants, Children, and Adolescents. Hagan JF, Shaw JS, Duncan PM. Pediatrics. 2008.
AAP Bright Futures Periodicity Table: AAP Bright Futures Recommendations for Preventative Pediatric Healthcare
AAP Task Force on Sudden Infant Death Syndrome (AAPTFSIDS). SIDS and other sleep-related infant deaths: Expansion of recommendations for a safe infant sleeping environment. Moon RY. Pediatrics. 2011.128,1030–1039.
AAP Committee on Practice and Ambulatory Medicine, Section on Neurological Surgery. Prevention and management of positional skull deformities in infants. Laughlin J, Luerssen TG, Dias MS. Pediatrics. 2011;128:1236-1241.
Safe To Sleep. U.S. Department of Health and Human Services. National Institute of Child Health and Human Development (NICHD), National Institutes of Health (NIH). 1994. Based on AAP recommendations, 1992.
Ridgway EB, Weiner HL. Skull deformities. Pediatr Clin North Am. 2004;51:359-387.
Seruya M, Oh AK, Taylor JH, Sauerhammer TM, Rogers GF. Helmet treatment of deformational plagiocephaly: the relationship between age at initiation and rate of correction. Plast Reconstr Surg. 2013 Jan;131(1):55e-61e.
Kaplan SL, Coulter CP, Fetters L. Physical therapy management of congenital muscular torticollis: an evidence-based clinical practice guideline. Pediatr Phys Ther. 2013;25:348-394.
Steinberg JP, Rawlani R, Humphries LS, Rawlani V, Vicari FA. Effectiveness of conservative therapy and helmet therapy for positional cranial deformation. Plast Reconstr Surg. 2015;135(3):833.
Swaddling resources: Hip Healthy Swaddling. AAP and Pediatric Orthopaedic Society of North America. Caring for Our Children, National Health and Safety Performance Standards. National Resource Center for Health and Safety in Child Care and Early Education, AAP, and American Public Health Association.