List of manufacturers of orthotic-friendly shoes with removable footbed-insole
Orthoses definitions
Foot and Ankle
Ankle Foot Orthoses (AFO)
Supra Maleolar Orthoses (SMO) – low profile design, crosses the ankle, less invasive trimlines than standard AFO. SureStep provides both AFO and SMO for hypotonia, pronation, toe-walking, triplanar instability in weight bearing, and inability to maintain independent standing.  
Foot Orthoses (shoe insert) 
Dynamic Ankle Foot Orthoses (DAFO) by Cascade
Ankle Foot Orthoses Footwear Combination (AFO-FC) Children with certain neuro-physiological impairment resulting in movement problems such as toe-walking may benefit from the use of an AFO plus customized outer footwear (referred to as AFO-FC) in addition to physical therapy. Our treatment goals are to help them to stand upright and to maximize their stability and mobility. These concepts may not be well known but are very promising in the pediatric population and have been documented by highly-regarded practitioners such as Donald McGovern, CPO at the Rehabilitation Institute of Chicago, Elaine Owen, MSc, SRP, MCSP in Scotland, and Beverly Cusick, PT, MS, COF in Colorado. We use AFO-FC to teach a child to keep weight off the toes, help them to "feel" their heel, encourage heel strike and range of motion, increase proprioceptive feedback, and reduce compensations. 
Knee
Knee Orthoses (KO) – to protect knee structure from undue loading stress. 
Knee Ankle Foot Orthoses (KAFO) Ultra-Flex. For night-time, we may recommend a Ultra-Flex KAFO to maintain and increase muscle length of the hamstrings and the gastroc-soleus muscles and maintain full range of motion. 
Hyperextension Knee Orthoses (HEKO) SureStep for genu-recurvatum, genu-valgum, and genu-varum. 
Hip and Back

Hip Knee Ankle Foot Orthoses (HKAFO) Indicated for Spina Bifida and Spinal Cord Injury

Thoracic Lumbar Sacral Orthoses (TLSO) for post-operative, postural instabilities of the trunk, neuropathic scoliosis, inability to control position in wheelchair, flexible kyphosis, flexible lordosis.
Lumbrosacral Orthoses (LSO)
Hip Abduction Orthosis
 Hand and Arm
Wrist Hand Orthoses (WHO) 
Fabric Orthoses (Compression Garment)
Fabric orthoses are body-hugging garments fabricated using strong stretchy material (lycra, deltaflex), that are individually made-to-order with panels inserted to exert pull where needed on the trunk, arms, legs, or feet. Fabric orthoses are used for physical, sensory and neuromuscular concerns, or disrupted movement patterns (eg, muscular dystrophy, multiple sclerosis, cerebral palsy, scoliosis, hyperreflexia, hypotonia). They have been demonstrated to provide calming sensory feedback, stimulate proprioception (body and limb awareness), help improve reaching and grasping ability, strengthen proximal stability of the trunk, strengthen distal stability of wrist and hand, reduce involuntary movements for more precise muscle activity, and improve sitting posture.1 They may be worn as gloves, sleeves, vest, socks, shorts, pants or an entire body suit. They may be referred to as DEFO (Dynamic Elastomeric Fabric Orthoses); examples include TheraTogs invented by Beverly Cusick, PT; and Sensory Dynamic Orthoses (SDO) by Pro-Tech.  
Similar products have been developed for dogs afraid of thunder (ThunderCoat) because the compression provides calming sensory input. Athletes may use compression garments to increase proprioception, or the sense of their limb in space. For example Tiger Woods has used an arm sleeve, and swimmers use compression shorts.   
Cranial Molding Orthoses (CMO)

CMO or cranial helmets are regulated by the FDA. CMO channel head growth by using passive resistance on prominent areas of the skull in order to direct skull growth toward the flattened areas. CMO are custom-made based on the child's unique head measurement, fabricated of rigid plastic with soft interface material. The orthotist fits the helmet and makes adjustments as the child grows.We use the Orthomerica STARscanner System. We provide free evaluations for children with head shape asymmetry between ages 3-18 months, and provide data to pediatricians and parents who decide if helmet therapy is indicated.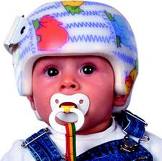 Thoracic Lumbar Sacral Hip Knee Ankle Foot Orthoses (TLSHKAFO) 
TAOS (Therapeutic Ambulatory Orthotic System) by SKY MEDICAL

TAOS is a TLSHKAFO suspension attachment on a mobile base frame, and may be used for children with poor trunk control and balance who cannot ambulate independently but who have some weight-bearing ability and can generate limited lower-extremity motion. The system is adjustable for growth, allows variable weight bearing, and directs body weight onto the feet so the child can ambulate in an upright position. The manufacturer lists additional benefits for TAOS: promotes core strength which may improve bowel and bladder control, promotes variable gait training and may improve gait pattern, and allows mobility in the child's environment which may improve their self esteem.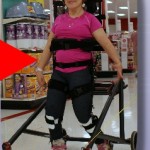 Manufacturer Information
CASCADE DAFO – Cascade DAFO (dynamic ankle foot orthoses) created the first DAFO in 1985. We recommend the Cascade DAFO Library for instructional case study videos on the following topics: low tone pronation, high tone pronation or supination, swing phase inconsistency, excessive plantarflexion toe walking, knee hyperextension, crouching or excess knee flexion, positioning or limited ambulation.
ULTRAFLEX – Ultraflex FDA Class 1 braces are available only with physician prescription for fitting by a certified orthotist, and are indicated for the following: spasticity (hyperreflexia), cerebral palsy (hemiplegic, diplegic, quadriplegic), traumatic brain injury (TBI), cerebral vascular accident (CVA) or stroke, muscular dystrophy, brachial plexus injury, spina bifida, arthrogryposis, spinal cord injury (SCI), gait instability/dysfunction, post-surgical orthopedic rehabilitation. 
SURESTEP – SMO and AFO for hypotonia, pronation, toe-walking, triplanar instability in weight bearing, and inability to maintain independent standing. HEKO for genu-recurvatum, genu-valgum, and genu-varum. TLSO for postural instabilities of the trunk, neuropathic scoliosis, inability to control position in wheelchair, flexible kyphosis/lordosis.
ORTHOMERICA – STARband cranial molding orthoses (CMO), protective head gear, burn and fracture masks, plus a wide variety of prefabricated and custom orthoses for upper/lower extremity and spinal, including UCBL (University of California at Berkeley), AFO, SMO, PTB (patellar tendon bearing), KAFO (knee ankle foot orthoses), HKAFO (hip knee ankle foot orthoses), and more.
1. The Effect of Dynamic Elastromeric Fabric Orthoses on Upper Extremity Function of Children with Cerebral Palsy: Systematic Review of the Literature. Shana Garland DPT. Assn of Children's Prosthetic-Orthotic Clinics. 2013 June;19(2):14-36.