Exercises for the Lower Extremity Amputee
Excerpted from "Exercises for the Lower Extremity Amputee, Beginning Through Advanced. A Program for Regaining Optimal Function" by William Partridge PT, Philip Kreuter PT, Scott Belding PT. (1997) Reprinted with permission on March 13, 2014.
BEGINNING STRETCHING EXERCISES
Stretching helps keep both the sound and residual limbs flexible, will help to prevent injury, and make walking easier and more natural. The illustrations are guides, don't worry if you can't get into the position as shown.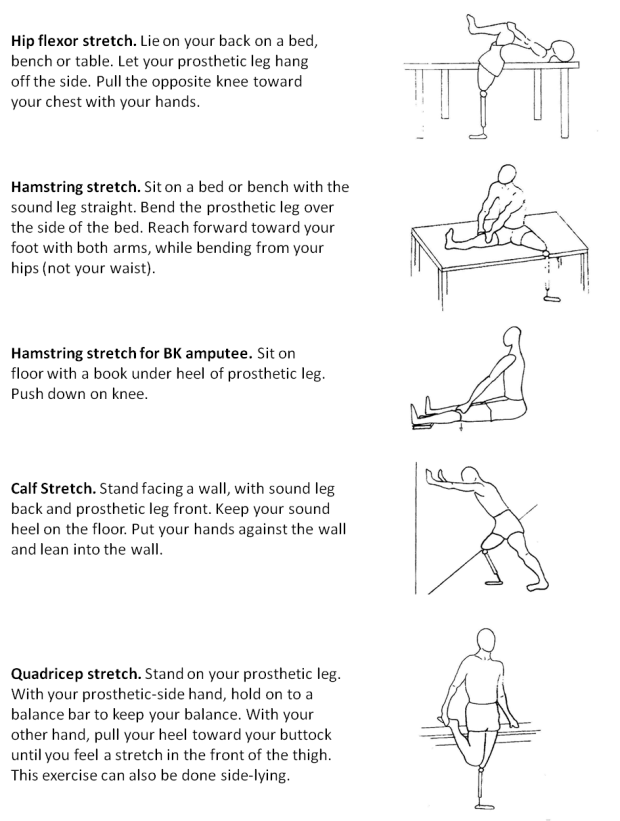 ADVANCED STRETCHING EXERCISES
These advanced stretches are desirable when your activity level increases, and are especially helpful if you run or participate in recreational or competitive sports.
 BEGINNING STRENGTHENING EXERCISES
We now move from stretching to strengthening. Either beginner or advanced exercises can be done at home with minimal equipment in 20-30 minutes. Increasing strength will help your gait, coordination, balance and overall function.
• AK amputee note: Important muscles you will be strengthening include hip extensors (gluts), hip abductors (for moving limb to the side), hip adductors (for moving limb inwards), and hip flexors.
• BK amputee note: Important muscles you will be strengthening include the quadriceps (thigh) and the hamstrings, as well as all hip muscles associated with the residual limb.
Move slowly into the position as illustrated. Hold it a few seconds. Relax. Repeat. The number of repetitions depends on your physical condition, consult your physical therapist. For the exercises shown, lie on a flat surface, such as a firm bed or floor with an exercise pad. AKs with hydraulic knee should lock the knee.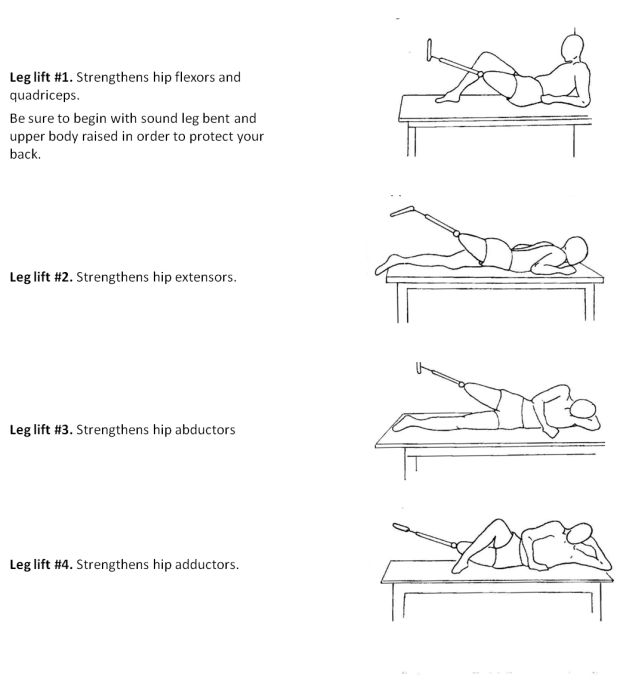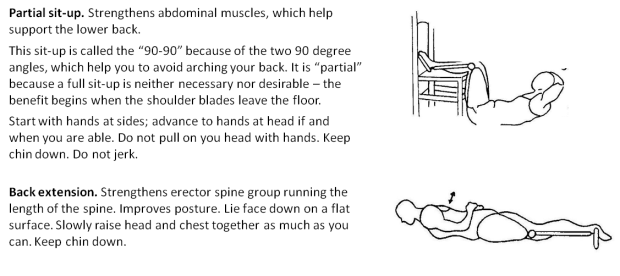 ADVANCED STRENGTHENING EXERCISES
These exercises may be added after you have gained strength and are more active.